Explore Taranaki
Surrounding Mount Egmont, a perfect cone-shaped volcanic peak, and Egmont National Park, Taranaki is located on the north island's west coast.
About 5 hours' drive from either Wellington or Auckland, the Taranaki region is rather isolated. However, it boasts a surprisingly dynamic cultural scene around its only city, New Plymouth (74,000 inhabitants, or just over 50% of the region's population).
A Mountain God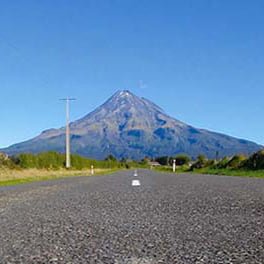 According to Māori legend, Mount Taranaki (or Mount Egmont) was a mountain god who lived alongside the North Island's three other main mountains (Ruapehu, Tongariro and Ngaruhoe) in nowadays' Tongariro National Park. Taranaki fought over the heart of pretty femal mountain Pihanga with Tongariro and, losing the battle, found himself banished to the west coast, creating the Whanganui River in its wake. A near-perfect cone, Mount Taranaki is still active, and his last eruption dates back to the mid-18th century. Towering the region with its 2,518m/8,261ft peak, Mount Taranaki has commanding view over the extension national park and is the setting of exceptional hiking trips.
Populated by several Māori tribes since the 13th century due to its proximity to the sea, but also its exceptionally rich, fertile volcanic soil, Taranaki saw European settlement as early as the 1840s, for the same reasons. The region is today one of the country's largest dairy hubs, and the second biggest milk treatment complex in the Southern hemisphere.
USEFUL TARANAKI INFORMATION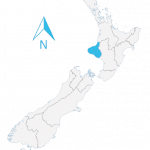 Population 109,608
Household average yearly income $88,140
Main centres New Plymouth, Hawera