ARE YOU ELIGIBLE FOR A NEW ZEALAND VISA?
Our New Zealand visa eligibility assessment has the answer
Can you move to New Zealand? Remove the uncertainty and get total peace of mind with licensed New Zealand immigration consultants and a money back guarantee. Because we understand that every person or every family has different situations, our team of expert immigration advisors is dedicated to help you make your move towards your new life in New Zealand an amazing, stress-free experience. Let us help you achieve your goal by taking care of the New Zealand immigration process. Our eligibility assessment helps us understand your situation and your needs better.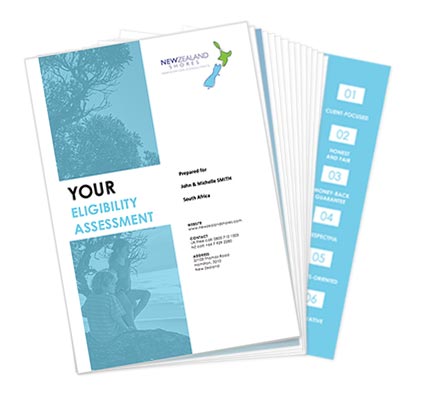 Over 15 pages of personalised recommendations to get your migration started!
The Skilled Migrant Residence Category
One of the most popular New Zealand residence visa categories is based on an Expression Of Interest (EOI) for a residence class visa under the Skilled Migrant Category. In this points-based system, our Licensed Advisers will assess whether you meet the requirements, including recognised qualifications, work experience, English language, or skilled employment, and if you can claim enough points to be Invited To Apply for residence (ITA).