Studying in New Zealand at a University or Tertiary Institution is a great way to migrate to New Zealand and obtain an internationally recognised qualification.
Are you eligible for a student visa?
We are serious about privacy.
The information you provide is secure and is only used to assess your enquiry.
What should I study in New Zealand?
Depending on the course of study, you can also work while you are studying, and potentially be granted an open work visa at conclusion of your studies so you can then actively seek full time work in New Zealand.
Different study pathways
There are many different pathways on which courses to study in New Zealand and the visas available to you and your family. At New Zealand Shores, we will ensure you are advised of the best pathway for you and your family to meet your long-term goals. We offer a complete end-to-end service for Students, from selection of an appropriate course, offer of place through to approval of your Student Visa and your family visas.
Authorised Agents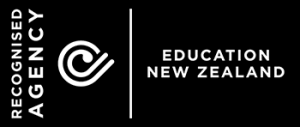 We are trusted authorised agents for some leading New Zealand Tertiary Institutes. Our staff are also licensed immigration advisers, so we know what it takes to have your Student Visa application approved by Immigration New Zealand. Contact us now to discuss your International Study options in New Zealand and the Student Visa options available to you.
Browse this section for more information, check international students' work rights, find out how to bring your family over, or how to work in New Zealand after studying.