Explore Marlborough
Fjords & vineyards: the sunniest spot in New Zealand offers serious opportunities in the primary sector and tourism.
Tucked at the North-Eastern tip of the South Island, Marlborough boasts stunning scenery and wonderful fjord walks. What's more, its dry climate nurtures some of the best vineyards in the country.
From whales to wine
Marlborough is tucked in the Wairau Plains, between the Kaikoura ranges in the south, and the Marlborough Sounds, in the North. Polynesian settlers were present in the region in the 13th century, with fish, sea mammals, and birds supporting their lifestyle. Māori developed canals all over the region to further establish their settlements. Captain James Cook dropped anchor in the Marlborough Sounds in February 1770. The following century saw a flourishing whaling industry which, due to intensive exploitation, did not last long. Grazing and agriculture (barley, wheat, vegetables) quickly came to dominate the trade while milling became a secondary but important industry. The 1970s saw the birth of a now-dominant wine industry. Marlborough's main city, Blenheim, with just over 30,000 residents, is the gateway to nearby tourism activities while catering for the region's wine trade.
USEFUL MARLBOROUGH INFORMATION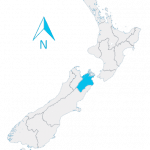 Population 43,416
Household average yearly income $82,628
Main centres Blenheim, Picton