The employer accreditation process
How to get your company accredited? Below is a quick overview of the process.
Our step-by-step approach makes it hassle-free for your business.
Overview of the accreditation process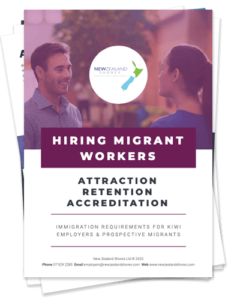 The immigration accreditation process does cover business-sensitive information and we completely understand there may be concerns throughout the process. We take a very practical approach to this and will only request information that is necessary for your application. Feel free to discuss directly with your adviser : we can advise on exactly what is required without having to provide too much (or too little) while also ensuring the INZ requirements are met.
It also goes without saying all the information you provide is highly secure and will not be viewed or shared with any party other than Immigration New Zealand for your application.
How long does it take to get accredited?
There are various stages to employer accreditation, including documentation, review, and processing. Getting the right documentation for your company's accreditation application is critical to the next steps. Our expert team will guide you through the process and carefully review the documentation you provide, highlighting gaps and compliance issues. This can take a few days or a few weeks depending on the size of your company, the documentation you have in place already and the changes required.
Once the application has been lodged, it will be placed in a queue to be processed, which can take a few weeks depending on the number of accreditation applications at that point in time. Immigration's online systems will conduct checks again a set of criteria, some of which are automated, while others will require a case officer's input.
All in all, an accreditation application may take one to three weeks from preparation to approval.
Preparing and Lodging your accreditation application
As Immigration advisers, we know what policy is relevant to your business, and the documentation that is required. Your dedicated consultant will help with:
HR documentation
Are your HR policies up to date, and particularly with relevance to the latest immigration requirements? Do you need to review your employment agreements? Your health & safety policies?
Areas that need improving
Our Immigration agents will identify and point to weak points in your documentation, and how these can be remedied. We can recommend HR advisors if you wish to have a full review of your policies and paperwork.
Documentation and application
Once we have captured all the information required for a successful accreditation application, your adviser will prepare the application by completing the forms, preparing and presenting the documentation in the required format and writing a comprehensive overview letter for Immigration NZ.
The application will then be lodged with INZ.
Management of your application with Immigration New Zealand
After lodgement of the application, it can take a few weeks before it is picked from the queue and assigned to an INZ Case Officer. The timeframes are purely determined by INZ as to how soon this will happen.
Once your application is assigned to a Case Officer, we will manage the interactions with the Case Officer and any questions they may have right through to the final decision.
Once you are accredited we can support you ongoing with any questions you may have.
Don't wait, contact us now for more information and get the right staff for the job.