Our assessment for New Zealand immigration eligibility has the answer
Health Professionals are in high demand in New Zealand. Our partners at ACCENT HEALTH RECRUITMENT understand this and so do we!
Can your skillset allow you to move to New Zealand? Will your application meet Immigration New Zealand's criteria? Does your occupation feature on a Skills In Demand list? Remove the uncertainty and get total peace of mind with licensed New Zealand immigration consultants and a money back guarantee. Because we understand that every person or every family has different situations, our team of expert immigration advisors is dedicated to help you make your move towards your new life in New Zealand an amazing, stress-free experience. Let us help you achieve your goal by taking care of the New Zealand immigration process. Our eligibility assessment helps us understand your situation and your needs better.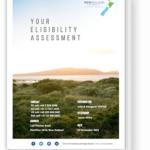 Get your free eligibility assessment
We are serious about privacy.
The information you provide is secure and is only used to assess your enquiry.