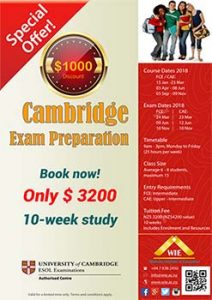 New  Zealand Shores is an agent for a diverse array of Education Providers, including WIE. We can assess your eligibility for this course or other courses.
There are minimum English requirements for many New Zealand visas. Do you qualify?
The Waikato Institute of Education is a recognised institution that specialises in English course and exam preparations, including Cambridge, IELTS, OET, etc. This special offer will prepare you to take the Cambridge ESOL examination in just 10 weeks, at a discounted price of NZ$3,200, and meet INZ requirements for English proficiency.
Talk to our student specialist now and find out how we can help with your enrolment and visa process.