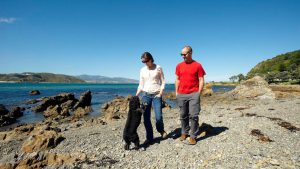 Even better the second time around! This is what this young American couple found New Zealand to be.
After a short work opportunity in Wellington, the couple moved back to the US but the memories of New Zealand's laid-back life, "by the beach", was too strong to resist... Mike and Megan therefore decided to make the move more permanent and they are happy as ever, in New Zealand's bustling "little capital", Wellington.
Read out more about this particular experience of moving to New Zealand, browse our "Life in NZ" pages, or sign up to our free Kiwi Essentials New Zealand guide. Or contact us to find out how we can help with New Zealand VISAs, job placements, moving your belongings, or paperwork.