We have been a recognised Education New Zealand agency since 2019. This approval recognises the quality service and assistance our agency provides to those who want to study in New Zealand and the contribution we make to a positive student experience.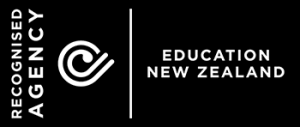 A positive student experience
We are proud of the achievement and renewed trust placed in our services and we are looking forward to continuing helping prospective students achieve their goals in New Zealand and benefit from our world-class education system.
Contact us to discuss your study goals for 2021-2022. Regardless of the COVID pandemic, Education providers are all hands on deck and many courses are available online, allowing you to commence your studies offshore and come to New Zealand once our borders reopen.