Meet our team!
Our Immigration Advisers are all licensed by the Immigration Advisers Authority (IAA) and work by the IAA Code of Conduct and the Immigration Advisers' competency standards. With years of practical and professional experience, you can be assured they will handle your visa application in the best possible way.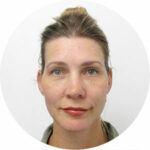 MELISSA NEUHOFF
Licensed Immigration Adviser
Born in South Africa, Melissa moved to New Zealand with her partner in 2016, and is based out of Christchurch. This experience allows her to bring a personal approach to the migration process. She joined the immigration industry in 2017, a desire born from the need to assist immigrants through the stressful immigration process, having been through the journey herself and seeing the need for quality service in the field.
Melissa holds qualifications in Marketing Management and Technical Accounting, along with the Graduate Diploma in Immigration Advice. With her background in finance, operations and management across different industries, Melissa brings an analytical approach to her client's cases while maintaining the human connection that can sometimes become devalued in this challenging industry.
Outside of work, Melissa is an animal lover and spends her time outdoors with her dogs. She is also a practising Yoga Teacher and often holds yoga sessions with our other team members.
Get your free eligibility assessment
We are serious about privacy.
The information you provide is secure and is only used to assess your enquiry.