New Zealanders are real foodies and are blessed with food from all around the world brought over with migrants' customs and traditions.
Today our team got treated to morning tea with a twist with Anurag's special recipes and he was kind enough to share one of them.
Mint chutney recipe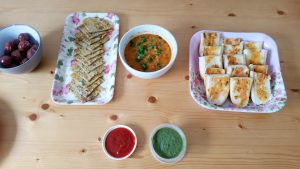 Ingredients:
3 tablespoons of fresh yogurt
1 cup of fresh NZ-grown Mint Leaves
1 red onion
1 green chilli
1 teaspoon - Dry mango powder
Salt – as per taste
1 teaspoon - Pomegranate seeds
1 teaspoon - Chaat masala
Blend everything together into a smooth paste and spread on your favourite bread or vegetables!