How soon will you be able to make the move?
With the NZ Government announcing a reopening of our borders to overseas travellers from February 2022 through to October 2022, now is an appropriate time to lay the foundation for your future migration to New Zealand. Getting your head around the process and the documentation required can take some time and the team at New Zealand Shores remains fully committed to assisting you throughout this process.
In normal circumstances, it may take several months to gather all the required documentation and fine-tune your job search strategy. Prepare now and take our free eligibility assessment. Save time by being ready once borders reopen: getting a head start on documentation will enable you to commence your job search earlier too.
Depending on your circumstances, there may be certain restrictions in place regarding who can apply for a visa from offshore, check with us to find out whether you may qualify for an exemption.
5-step reopening of NZ borders
More than ever, New Zealand is a fantastic country to relocate to.
We are here for you!
The team at New Zealand Shores are all readily available by phone, email and Zoom.  Please reach out to us so we can prepare for when the borders fully re-open and make your migration come true. In the meantime, if you haven't already, take our eligibility assessment!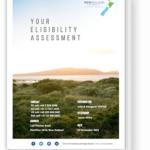 Get your free eligibility assessment
We are serious about privacy.
The information you provide is secure and is only used to assess your enquiry.