Introducing Crew - our new ICT recruitment partner
Crew Technology Recruitment is a specialist IT and Digital recruitment company.
"We love technology here at Crew and have been trying to keep up with the explosion. We understand the growing need for technology experts across all areas and have great experience placing these professionals into their dream jobs."
Business Intelligence,
Analytics, Data Science,
Infrastructure,
Cloud Services,
Business Analysts,
Project Managers,
Web & Software developers,
Change Analysts
or pretty much anything ICT related... then talk to Crew!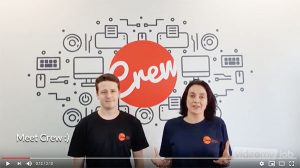 The Crew experience goes beyond finding your dream job, they also assist with CV rewriting, interview training, and provide a wealth of local insights to prepare for your move to New Zealand.
For more information about Crew, their team, and the jobs that they are recruiting for then visit  https://www.crewconsulting.co.nz/
Or alternatively, contact Sarah Lincoln at [email protected]​ for more information on a role that you would like to explore further.
Find out about opportunities today